The SC Bar recognizes Bradley K. Richardson, P.C. for receiving the Corporate Caring Award from Meals on Wheels.
The firm donated funding to Meals on Wheels, which organizes the preparation and delivery of meals to those unable to purchase or prepare their own meals. The donations specifically help support the elderly with a variety of chronic health conditions and other needs, as well as those who have historically been underserved.
"Meals on Wheels provides an avenue to connect with those who need not only a daily meal but a real connection to the community." says Bradley K. Richardson, founder of Bradley K. Richardson, P.C. "Our firm began by supporting Meals on Wheels with monetary donations but quickly grew into a more hands-on role. Our entire team volunteers and runs a weekly route. I could not be more proud of our team for taking the opportunity to serve our community."
The South Carolina Bar is a statewide organization dedicated to improving the legal profession, the law and the administration of justice for all South Carolinians. It serves more than 17,000 lawyer members and provides resources to educators and citizens of the Palmetto State. Learn more at www.scbar.org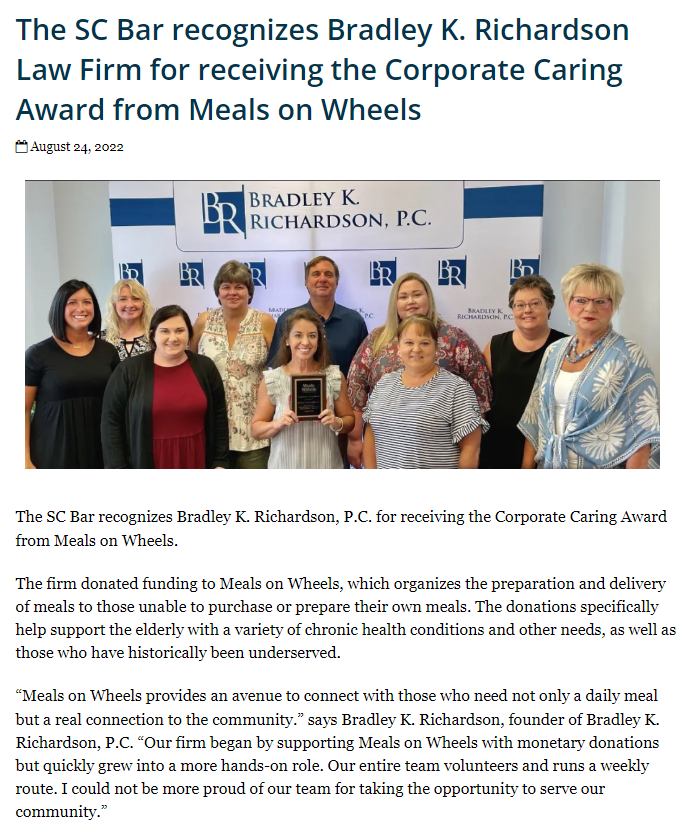 Get in touch! We can't wait to hear from you.